Recipe for High Holidays – Apple Cake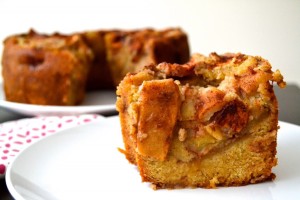 Apples & Honey Cake
This is a great apple cake to serve at a High Holiday celebration or any time.
From: www.cookinginredsocks.com, called Jewish Apple Cake
Ingredients
5 large McIntosh apples
1 tablespoon cinnamon
5 tablespoons sugar
½ tsp nutmeg
2¾ cups all purpose flour* (replace 3/4 – 1 1/2 cups with wheat flour if desired)
1 tablespoon baking powder
1 teaspoon salt
1 cup vegetable oil
2 cups sugar
¼ cup orange juice
2½ teaspoons vanilla
4 eggs
Instructions
Preheat the oven to 350 degrees. Spray a tube pan with cooking spray and set aside.
Peel and core the apples. Cut the apples into thin slices and put into a large bowl with the cinnamon and sugar. Toss well to combine and set aside.
Whisk the oil, 2 cups sugar, orange juice and vanilla together in a large bowl. Add the eggs one at a time and whisk until well incorporated.
Add the salt, baking powder, and flour, using a spatula to fold together.
Pour half of the batter into the tube pan. Add half the apples, laying them in an even layer and covering the whole surface of the batter. Gently press the apples into the batter so that the batter starts to come over the sides of the apples. This will help make cohesive layers that stick together.
Add the remaining half the of the batter and remaining half of the apples, gently pressing them in the same way. Remember that this second layer is the top, so make the apples look nice and pretty!
Bake the cake in the oven for about 90 minutes, or until it comes out clean with a skewer. Remember that it tends to look wet around the apples as their juices bake, which is why testing with a skewer is so important.
Remove from the oven and cool completely, about 2 hours before removing it from the pan.