Recipe for Passover – Mimi's Not Quite Homemade Gefilte Fish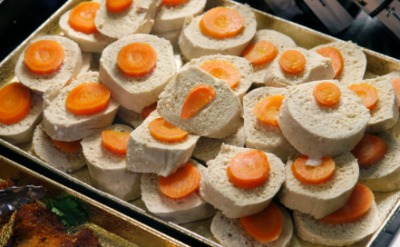 Mimi's Not Quite Homemade Gefilte Fish
Submitted by Julie Campisi
2 jars of gefilte fish
2 tsp. peanut oil
1 small onion
1 large carrot
½ can sliced beets (optional but adds good color)
salt and pepper
In a deep skillet pan, sauté onion in peanut oil until lightly brown.
Remove fish from jars and set aside. Add the liquid from the jars to the onions.
Add carrot and seasoning. Simmer 10 minutes.
Place fish in pan, bring to simmer. Cover and cook 20 minutes.
Cool, add well drained beets.
Refrigerate overnight.
Serve with horseradish on a bed of lettuce.