Julie's Passover Toll House Cookies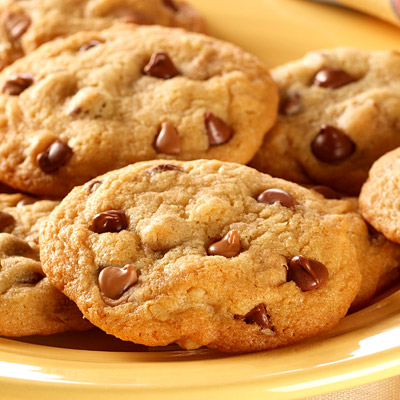 Julie's Passover Toll House Cookies*
*not the world famous secret chocolate chip cookie recipe – that recipe is SECRET!
Submitted by Julie Campisi
¾ cup sugar
¾ cup brown sugar
1 cup margarine, room temperature
2 eggs
1 tsp vanilla
1 tsp baking soda
1 tsp salt
1 cup matza cake meal PLUS 2 tablespoons
1 cup potato starch PLUS 6 tablespoons
16 oz. bag of chocolate chips
Preheat oven to 375F
Beat together margarine, sugar and brown sugar until well mixed.
Add eggs and vanilla.
Sift together baking soda, salt, matza cake meal, and potato starch. *don't skip sifting.
Add to margarine/sugar mixture. Beat until smooth.
Add chocolate chips.
Bake 7 to 9 minutes on cookie sheets lined with parchment paper.
*cooking time may vary.