Please come help us celebrate our Tu B'shevat Pot Luck
Friday, February 10, 2017 @ 6:00.
Congregation Etz Chaim
Bacon Street
Biddeford
Song provided by Beth Strassler
Please bring a dairy or Veggie dish. Dessert will be provided.
RSVP Barbara – Simbar73@maine.rr.com or Linda – petsrluv1@gmail.com
The Hebrew School children are busy with preparations
---

Shalom and Welcome!  
Congregation Etz Chaim is a non-denominational synagogue located in Biddeford, Maine.  Our members are from all over York county, and even beyond.  Check out our website to learn about our vibrant community and our synagogue offerings:
High Holiday Services
Shabbat Morning Services Twice A Month
Jewish Holiday Celebrations
Community Friday Night Potlucks
Weekly Hebrew School for School Age Children
Sunday School for Young Children & Families
Adult Education and Community Programming
Bar/Bat Mitzvah Training
"We use gender sensitive prayer books in a warm, friendly atmosphere. We are also the home of the Samuel Osher Memorial Library, which offers Jewish books, music, education materials, and a wide selection of videotapes/DVDs."

– David Strassler, President
Upcoming Events:
Blog in Blog: There are no posts that match the selection criteria.
View Our Calendar of Events >
Member Spotlight:
Member Spotlight – Ethan Levy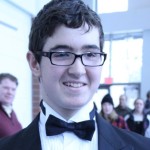 If you want to know about the Etz Chaim/York County Community Hebrew School, you should ask our new alum, Ethan Levy. Ethan, a 16-yr-old Junior at Thornton Academy, has been part of the Etz Chaim community – and the Hebrew School – for over half his life. "I think my family started going to Temple
Read more >
Featured Member Recipes:
Announcements:
View More Announcements >